Da Vinci's Mona Lisa Portrait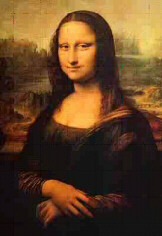 Mona Lisa (La Gioconda)
c. 1503-5 by Leonardo da Vinci
Oil on panel, 77 x 53 cm
Musée du Louvre, Paris
Click here to see our fine art reproductions.
The Mona Lisa portrait by Italian Renaissance artist Leonardo da Vinci was probably begun in 1503 and completed in 1506. She is identified by Giorgio Vasari, art historian and contemporary of da Vinci, as Lisa Gioconda, the wife of a Florentine merchant who was friend to Leonardo's father. Da Vinci never delivered the Mona Lisa portrait to a patron. He took it with him to France in 1516 when he was summoned by the French king, Francis I. There is conjecture as to why the Mona Lisa portrait remained in Da Vinci's possession. Perhaps it was a patronage problem, or perhaps there never was a patron. The Mona Lisa portrait may have been merely an exercise for Leonardo da Vinci in perfecting his sfumato technique. With his interest in the rendering of atmospheric perspective, da Vinci would have considered such an exercise in perspective challenging. The mysterious landscape in the background of the Mona Lisa portrait is unrivaled in its depth and hazy atmospheric perspective.
Before Leonardo da Vinci's death in Amboise on May 2, 1519, he sold the Mona Lisa portrait to the French king, Francis I, for 4,000 écus (a gold or silver coin whose denomination varied over the centuries. The Mona Lisa portrait, much more famous today than it was in the artist's time, has become an icon worldwide for the grace and beauty of the mysterious woman with the enigmatic smile. After the French Revolution, the Mona Lisa portrait graced Napoleon's bedroom in the Tuilieries. The Mona Lisa portrait is currently located in Paris in the Louvre where an excellent discussion and close-up of the work can be found.
Brenda Harness, Art Historian