Lorenzo de' Medici | The Magnificent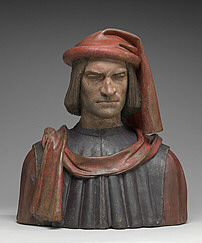 Lorenzo de' Medici
by Verrocchio
Click here to see our
gift shop.
Famous Italian Renaissance art patron Lorenzo de' Medici (1449-1492) ruled Florence with his brother Giuliano de' Medici from 1469-78 when Giuliano was assassinated. Lorenzo de' Medici ruled alone until his own death in 1492. Lorenzo de' Medici's rule was that of a benevolent dictator, tempering his tyranny with popular entertainments like balls, tournaments, carnivals, and other Florentine favorites.
In a move to overthrow both Lorenzo and Giuliano de' Medici at Easter Mass on April 26, 1478, an attack was launched by the Pazzi bank in league with Pope Sixtus IV, his nephew, and Francesco Salviati, the archbishop of Pisa. Lorenzo de' Medici survived, and his forces seized the archbishop and hung him from a window of the Palazzo Vecchio. The pope demanded Lorenzo de' Medici's arrest, but the Florentines rejected his demand. Garnering the help of King Ferdinand I of Naples, peace was restored and the pope capitulated, greatly enhancing Lorenzo de' Medici's standing. Soon after, the Florentine people began to refer to Lorenzo de' Medici as "Lorenzo the Magnificent."
Brenda Harness, Art Historian