Giorgio Vasari | Italian Renaissance Painter | Architect and Art Historian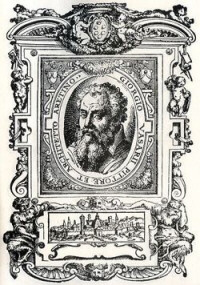 The Nativity (detail)
1303-05, fresco by Giotto di Bondone,
Arena (Scrovegni) Chapel, Padua

Click here to see our
gift shop.

Giorgio Vasari was born in Arezzo in 1511. At the age of 16, Cardinal Silvio Passerini sent him to study art in Florence where he became acquainted with famous artists like Andrea del Sarto, Rosso Fiorentino, and Jacopo Pontormo, all working in the exaggerated Mannerist style of painting which Giorgio Vasari soon adopted as well. It is because of Giorgio Vasari's humanist education and extensive travels that we know so much about prominent artists of his age. Giorgio Vasari became a particular fan of Venetian art, Raphael, and Michelangelo. Giorgio Vasari actually knew Michelangelo since Michelangelo survived most of his contemporaries. He praised Leonardo as an artistic genius and a "Renaissance man." Giorgio Vasari was only eight years old at the time of Leonardo's death in 1519.


'According to Vasari'
During his stay in Rome from 1542-46, Giorgio Vasari was commissioned by Cardinal Farnese to execute a series of paintings in the Vatican Chancellery. Although an adequate painter, he was an excellent architect, known much better for his art in his own day than today. Giorgio Vasari's real fame, however, came not through his art but through his tremendous contribution to the world of art history with his writings. Giorgio Vasari's publication in Florence in 1550 of his 'Lives of the Most Excellent Architects, Sculptors, and Painters' is a wealth of information about art and artists of the Italian Renaissance. Recognized as a fairly accurate resource in the world of Italian Renaissance art history, the term 'according to Vasari' has come into common usage to provide validation of the legitimacy of information for educators and art historians to this day. Giorgio Vasari died in Florence in 1574.