Andrea Mantegna | Leading the Way with Illusionism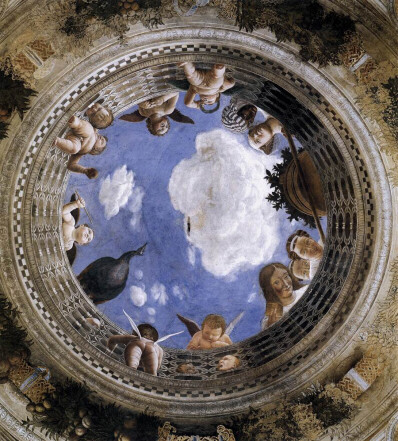 Oculus
by Andrea Mantegna
1471-74, fresco, diameter 270 cm
Camera degli Sposi, Palazzo Ducale,
Mantua, Italy

Click here to see our fine art reproductions.

Northern Early Italian Renaissance painter and engraver Andrea Mantegna (1431?-1506) is best known for painting heroic figures depicted in sharp perspective through the use of dramatic foreshortening. Andrea Mantegna often placed the subject of his work high up in the picture plane to give the illusion that the viewer is looking up from down below.



Andrea Mantegna had a keen interest in the culture of ancient Rome, and he was acquainted with many scholars who collected and studied Roman antiquities. Andrea Mantegna married Nicolosia Bellini in 1453, and his work influenced that of her brothers Giovanni and Gentile Bellini, who also became famous masters of Italian Renaissance painting.
Andrea Mantegna's illusionistic style kept him in constant demand
In 1459 Andrea Mantegna moved to Mantua to work for the ducal court of Ludovico Gonzaga where he remained until death. Andrea Mantegna painted a remarkable fresco cycle in a small room of the ducal palace called the Camera degli Sposi (wedding chamber) where he created an illusionistic open-air pavilion on the walls and ceiling.
On the ceiling, Andrea Mantegna painted a dome with an oculus depicting an open sky, complete with figures of people and winged cherubs looking down on the viewer through the illusionistic oculus opening. Such a technique is called trompe l'oeil or illusionism which means "to fool the eye".
Through his illusionistic style, Andrea Mantegna paved the way for later artists of the Italian Renaissance and Baroque eras. Andrea Mantegna's influence can be seen also in the works of Correggio and artists working in the mannerist style. Through study of his works, German artists like Albrecht Durer became aware of the ground-breaking artistic advances of the Italian Renaissance.
Brenda Harness, Art Historian