Luca della Robbia | Italian Renaissance Workshop With A Secret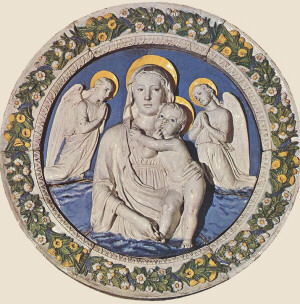 Cappuccini Tondo
by Luca dell Robbia
Colored, glazed terracotta
Bargello Museum, Florence, Italy
Click here to see our fine art reproductions.
Luca della Robbia (1399-1482) is the most well-known member of his artistic family due to his development of colored, glazed terracotta sculptures using his own secret workshop formula. An Early Italian Renaissance artist, his sculpture has been compared to that of Donatello and Ghiberti and to Masaccio in painting,. Luca dell Robbia is mostly known for his Madonna and Child figures on a blue background. The first time he is documented is in his creation of a Cantoria (singing gallery) ca. 1431-38 for Florence Cathedral.
Luca ran a thriving family workshop which often turned out works in popular roundel style, many of which were incorporated as architectural decoration by architects like Brunelleschi. The workshop was eventually taken over by Andrea della Robbia, Luca's nephew, and his five sons who carried on the family tradition. The Della Robbia family continued to keep the Luca della Robbia's secret technical formula for the production of colored terracotta works.
Brenda Harness, Art Historian