Andrea del Castagno | A Painter of Some Influence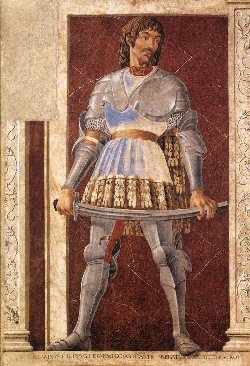 Pippo Spano
by Andrea del Castagno
1450, fresco transferred to wood, 250 x 154 cm
Galleria degli Uffizi, Florence

Click here to see our fine art reproductions.

Italian Renaissance painter Andrea del Castagno (1423-1457) was well known for the emotional expressionism and naturalism of his figure style. Castagno's first noteworthy paintings were executed for the Florentine convent of Sant' Apollonia. In this fresco cycle of 1447 Castagno depicted scenes from the Passion of Christ and the Last Supper, works influenced by the pictorial illusionism of Masaccio.


Andrea del Castagno was well-known for his portrait series of Famous Men and Women
Castagno's work shows his interest in scientific perspective. Not only was he influenced by Masaccio but also by Domenico Veneziano in his use of light colors. He was widely acclaimed, however, for his series of Famous Men and Women produced for the Villa Carducci Pandalfini at Legnaia. The Florentine condottiere Pippo Spano was portrayed by Andrea del Castagno in 1450 as an idealized heroic military commander with his relaxed pose, at ease with feet placed wide apart. In this over-life-size series, Castagno executed figures with the illusion of body movement and expressive facial rendering. He heightened the naturalism by presenting the figures as standing in illusionistic architectural niches. Castagno's emotional portrayal of the young David painted on a shield is similarly realistic and expressive, owing thanks to the influence of Donatello. Giorgio Vasari praised Castagno for his excellent draughtsmanship.
The Opera del Duomo commissioned Castagno to execute a fresco, an equestrian portrait of Niccolò da Tolentino in 1456, and this was Castagno's final work. Castagno's work was influential for later generations of Paduan and Florentine painters.
Brenda Harness, Art Historian