Proto-Renaissance (The Trecento) | The Beginnings of Italian Renaissance Art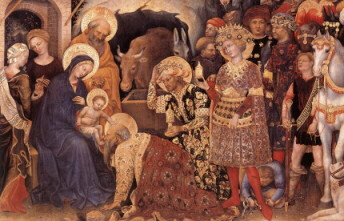 Adoration of the Magi (detail)
1423 by Gentile da Fabriano,
Proto-Renaissance/Trecento painting,
tempera on wood, 300 x 282 cm
Galleria degli Uffizi, Florence
Click here to see our
gift shop.
The Proto-Renaissance or Trecento (from Italian "mille trecento," 1300) refers to Italian culture of the 14th century. It was in the Proto-Renaissance that the ornamental, very detailed, International Gothic style of painting by artists like Gentile da Fabriano was in full bloom. The Proto-Renaissance style of painting and sculpture was shortly to change, however. Brewing in the Proto-Renaissance was a new style, more simple and classical which would revolutionize the art world. It is during the Proto-Renaissance that we see the beginnings of Early Renaissance Art in
Italy
. Proto-Renaissance or Trecento painters like Giotto di Bondone and others were active during this time. Proto-Renaissance artists laid a solid groundwork upon which later artists were able to build. The Proto-Renaissance or Trecento was also a time of extraordinary literary achievement, with Proto-Renaissance/Trecento writers like Dante, Petrarch and Boccaccio leading the field.
Brenda Harness, Art Historian