Rise of the Medici | Florentine Bankers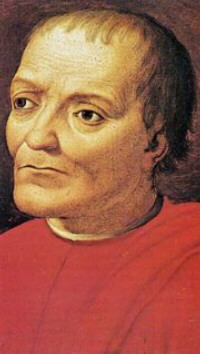 Giovanni di Bicci de' Medici
Click here to see our
gift shop.
At the heart of Italian Renaissance patronage was the rise of the Florentine Medici family. It is unclear exactly where the name Medici originated, but by the early fifteenth century, Giovanni di Bicci de' Medici stepped forward as a leading banker and merchant in Florence.
The Medici were primed to take hold of government with the collapse of medieval democratic rule due to popular dissent. Along with the Medici there was a "nobility of wealth" who began to amass wealth and who wielded tremendous power in this environment. Giovanni de' Medici was generous, using his staggering wealth for the public good thus garnering public support for his agendas. Confiding to his heirs, Lorenzo and Cosimo de' Medici, Giovanni de' Medici prided himself on helping as many people as possible. Giovanni de' Medici died at age 69 and was thereafter name "Father of the poor" for his many years of generosity.
Brenda Harness, Art Historian