Raphael's Madonna of the Chair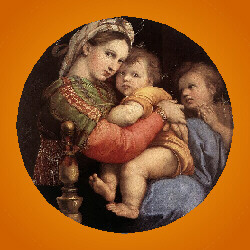 Madonna della Seggiola (Sedia)
(Madonna of the Chair)
by Raphael Sanzio
1514, oil on wood, diameter 71 cm
Galleria Palatina (Palazzo Pitti), Florence
Click here to see
a hand painted oil reproduction
of Raphael's Madonna of the Chair.
Raphael's Madonna della Seggiola (Sedia), also known as Madonna of the Chair, is one of Raphael's most intimate Madonna paintings. The 1514 image of Italian Renaissance master Raphael's Madonna is bathed in a warm, golden light. Raphael's Madonna engages the viewer directly as she sits closely confined within the circular tondo format affectionately and protectively cuddling her young son, the infant Christ Child. On the right slightly behind the Madonna and Child, Raphael depicts the figure of Christ's young cousin, the boy St. John the Baptist.
Raphael painted this Madonna while in Rome where it was soon acquired for the art collection of the Medici family. This depiction of Madonna and Child was painted during or shortly after Raphael's work on the Vatican Stanza d'Eliodoro. Raphael's Madonna was taken by Napoleon's troops in 1799, then it was returned to Florence in 1815. It appears that the model is the same one Raphael used for his Donna Velata portrait of 1514.
Brenda, Art Historian