Ancient Pyramid Found in Sudan
SUDAN -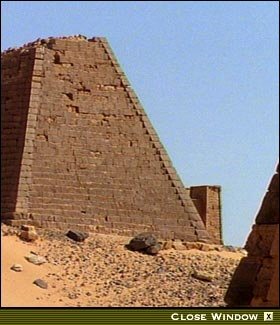 Ancient Kushite Pyramid
Sudan, Africa
Click here to see
our fine art shop.
10/25/2008 - British archaeologists have recently found an ancient ruined pyramid in Sudan once populated by the powerful Kushite civilization. The Sudanese government plans to flood the Meroë area of Sudan after a new hydroelectric dam is constructed near the Fourth Cataract of the Nile. Formerly called Nubia, Sudan covers the area of the Nile from Aswan, Egypt down to Khartoum, Sudan. Before the flood, the government invited archaeologists to excavate the Meroë area.
Treasures have been found
Kush was a rich and powerful kingdom, and in excavating the pyramid the archaeologists found treasures like fine gold jewellery that dates from 700BC. In addition the found "musical" rocks that create a melody when tapped and some ancient rock art. Egypt's 25th Dynasty was composed of Kushite rulers who conquered all of Egypt.
Historians long believed that this area of northern Sudan was of little historical importance, however, the discovery of this new information has caused a re-evaluation of that belief. The pyramid just found was constructed during the Second Kushite Kingdom whose rulers dominated the entire Nile valley from the 7th to 8th centuries BC. With this recent discovery, it appears that the Meroë area of Sudan was much underrated by the world.
Brenda Harness, Art Historian