The Mannerist Art of Benvenuto Cellini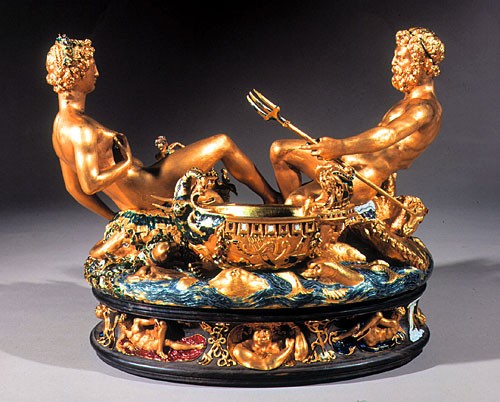 The Salieri (Saltcellar)
of Francis I
by Benvenuto Cellini
1540-43, gold and enamel with ebony base,
26 x 33,5 cm
Kunsthistorisches Museum, Vienna
Click here to see our fine art reproductions.
Florentine Mannerist artist Benvenuto Cellini (1500-1572) wrote one of the most engaging memoirs ever written, claiming descent back 1500 years to a captain under the command of Julius Caesar in the 1st c B.C. Cellini is described by others as boisterous, licentious, sensual, a murdering braggart. Nevertheless, this ruffian produced Mannerist style art works of remarkable beauty for a king. One such Mannerist work is The Saltcellar of Francis I commissioned by the King of France. Executed in 1540-43, Cellini's Mannerist masterpiece in gold and enamel depicts the god of the sea, Neptune, and the goddess of agriculture, Ceres, fitting figures to grace a king's dining room table. Cellini himself describes the work a "the interminglement of land and ocean."
The two figures are seated leaning back with their legs interlaced. Typical of Mannerist art, the center of the composition is completely empty, and the figures are posed in strained, unbalanced postures. Neptune places his hand on a ship which held salt for the table, while Ceres rests her hand on a temple which held pepper. The rest of this Mannerist composition is luxuriantly decorated with various flora, fauna, and sea life. Important guests at the king's table would have been seated closest to the Saltcellar. Despite his grandiose claims and constant difficulties with both civil and papal authorities, Cellini remains one of the most extraordinary Mannerist artists of the Late Renaissance. He was born and died in Florence.
Brenda Harness, Art Historian