The Annunciation to the Virgin | An Early Fine Art Work by Leonardo da Vinci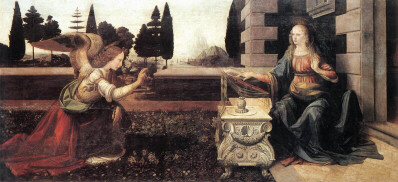 The Annunciation of the Virgin
by Leonardo da Vinci
1472-75, tempera on wood
98 x 217 cm (38 ½ x 85 3/8"
Galleria degli Uffizi, Florence
Click here to see larger image.
Click here to see our fine art reproductions.
This painting by Leonardo da Vinci of The Annunciation to the Virgin is an early fine art work executed by Italian Renaissance master Leonardo da Vinci while he was still in the art workshop of Renaissance master, Andrea del Verrocchio. While much grounded in the static style of the Quattrocentro, or 14th century, a glimpse of the Leonardo of the High Renaissance we have come to know can be seen in the smoky vista of this fine art work.
This fine art work has been dated by the depiction of the sarcophagus, similar to one Medici sarcophagus now in the Church of San Lorenzo, Florence. Also noteworthy of Leonardo's style in this fine art work is the strong chiaroscuro of the modeling of the clothing of the figures.
Brenda Harness, Art Historian