The Cestello Annunciation by Botticelli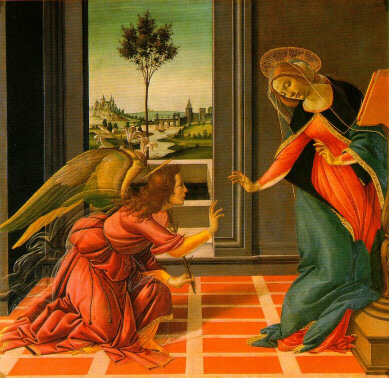 The Cestello Annunciation
Sandro Botticelli
1489-90, tempera on panel,
150 x 156 cm,
Galleria degli Uffizi, Florence
Click here
to buy a hand painted oil reproduction
of this famous work.
In the Cestello Annunciation by Early Renaissance artist Sandro Botticelli, the artist depicts the moment just after the Archangel Gabriel's arrival when he announces to the Virgin Mary that the Holy Ghost will soon pay her a visit as related in Luke's gospel.
Botticelli has structured the room using Brunelleschi's perspective. Commissioned in 1489, the Cestello Annunciation by Botticelli was painted for the Florentine convent of Cestello (now Santa Maria Maddalena de'Pazzi) in Borgo Pinti.
Botticelli's use of perspective in the Cestello Annunciation takes the viewer through the room along the orthogonal lines of the floor tiles to a point in the far distant landscape. The structured room setting of the Cestello Annunciation by Botticelli with its geometric lines contrasts with the figures painted in a lively manner with vibrant, flowing draperies.
As Gabriel kneels before Mary, Botticelli depicts him with an open mouth indicating the flow of words which are inscribed beneath him in Latin on the original frame of the painting.
Brenda Harness, Art Historian