Aztec Artifact: Largest Aztec Idol Ever Found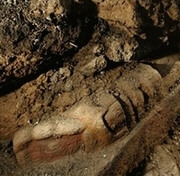 As it turns out, the 11 foot long stone slab, an Aztec artifact found on 10/04/2006 with the much publicized Aztec altar may actually be of greater historical significance than the altar itself. Archaeologists now believe the slab is the largest Aztec idol ever found, acclaiming the giant stone idol as one of the greatest artifact finds in Mexico.
Other Aztec Artifacts Found on Site of Templo Mayor
The Aztec Calendar stone, the Piedra del Sol, another artifact found in 1790 on the site of the Templo Mayor complex in Mexico City outweighs the monolithic idol slab artifact, but the length of the slab is longer than the radius of the Calendar Stone. Anthropologist Anvaro Barrera cautions patience to those waiting to see what is found and what those finds may mean. It is expected that excavation will be complete in about a month.
Brenda Harness, Art Historian
For more information on Italian Renaissance Art and book recommendations, click here.