EBay Auction Nets Over $600,000 for Lucky College Student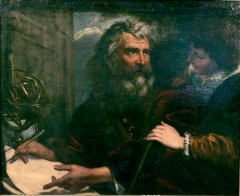 Untitled/Unsigned Work
possibly by Pier Francesco Mola
17th century, oil on canvas
Click hereto see our fine art reproductions.
02/08/2007 - Imagine being from a middle-class family from southern California struggling to pay college tuition for your daughter, then having a $600,000 eBay auction windfall fall into your lap. Well, that's what happened to one family on Super Bowl Sunday this year.
To raise tuition money, the unnamed couple decided to call an Oakland auction house to sell several items the woman inherited from her grandmother. They had no idea of what the worth was of the items. One work was an oil painting which the woman remembered from her childhood hanging in her grandmother's house in Italy.
Estate sales are pretty common and the enterprising auctioneer from Clars Auction Gallery of Oakland spread the word across the U. S. and Europe that what appeared to be the work of 17th century Italian master Pier Francesco Mola would be put on the eBay auction block.
The owner knows only that the painting was a gift to her grandmother. As the only surviving grandchild, she inherited her grandmother's possessions after her death about two years ago. She then moved those possessions to the United States and stored them in the garage for several months. Eventually, she hung the painting on the wall in her own home.
The item was auctioned on eBay on February 3, 2007, Super Bowl Sunday, and the bidding started at $5000. Bidders from around the globe offered extraordinary amounts for this untitled, unsigned work. As bidding progressed, the owner was astonished to find that at the end of the day, her painting, unsigned and untitled, sold to a New York art dealer for $620,000.
While the family chooses to remain anonymous, what more could a lucky teenager who has just had her entire college tuition paid for say except, "Thank you, Grandma."
Brenda Harness, Art Historian
For more information on Italian Renaissance Art and book recommendations, click here.