Easter Island Moia May Have Unwanted Family Arriving Soon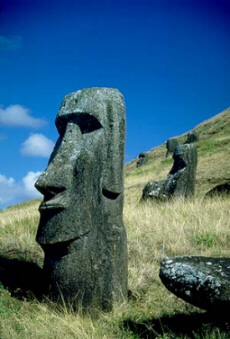 RAPA NUI, 01/10/2007 - Easter Island's moai, the gigantic monolithic statues which stand like great sentinels, today total less than 50. Those 50, however, may soon be joined by many others. As archaeologists continue to excavate, it is believed that more than 900 Easter Island moia remain toppled and/or buried, some still lying in the quarry. Easter Island residents are happy with the 50 moia icons they now have, those drawing sufficient tourist traffic to maintain the current population of about 3,800 residents. More than 45,000 tourists flocked to Easter Island last year to view the moai, a number which has increased by seven times from the 6,000 visitors who arrived in 1990.
Easter Island and its moai are owned by the government of Chile. Residents of Easter Island fear that essential resources will be diverted to maintain newly restored moai in a budget already sorely strained. Nor do the residents see any benefit of new knowledge from further excavation and restoration of moai. Since 50 percent of Easter Island is now designated as a National Park, further restoration of moai would take away valuable land resources in short supply on the small island. The Chilean government also owns about 30 percent of the land which was previously a sheep farming ranch.
Easter Island residents also fear further moai excavation will turn Easter Island into a theme park. Island residents also worry about the long term effects of the experiments being carried on by large chemical concerns. The moai which stand today at Easter Island are suffering ill effects already from exposure to the elements, raising valid concerns among residents about the cost of maintaining even more moai which might be restored. The moia sculptures of Easter Island provide local residents with a link to their treasured ancient ancestors. The excavation by archaeologists of the moai of Easter Island has left the residents feeling resentful, charging that excavators come and go leaving nothing behind.
Brenda Harness, Art Historian