Fine Art Auction of Nazi Looted Art Reaps a Huge Windfall for Heirs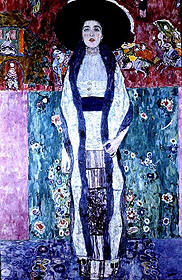 Portrait of Adele Bloch-Bauer II
Gustav Klimt
1912, oil on canvas
74.8" x 47.2" (190cm x 120 cm)
Click here to see
a hand painted oil reproduction
of this famous painting..
11/08/2006 - A fine art auction in New York of Nazi looted art reaps a huge result for Christie's Auction House. Featured in this fine art auction were works by Klimt, Kirchner, Gauguin and Schiele which brought in sales at another fine art auction of $491,472,000, called the biggest fine art auction in history. Four Klimt's which were restored to heirs of the original owners topped out the show at this fine art auction coming in at $192.7 million. One Klimt work, a portrait,
Adele Bloch-Bauer II
, sold for the third highest price ever at a fine art auction for a Klimt at $88 million.
Other restituted Nazi looted art works that sold were Berlin Street Scene by Kirchner setting a new fine art auction record for a Kirchner work, Single Houses by Schiele, also a new fine art auction record, two other Klimt's, and a Bonnard and a Balthus, both setting new fine art auction records. All of the restituted works were in excellent condition having been in museums since the 1940s. Marie Altman, the niece and heir of Adele and Ferdinand Bloch-Bauer intends to share her bounty from this fine art auction with her children and grandchildren.
Brenda Harness, Art Historian