Italian Renaissance Murder Mystery of Pico Mirandola and Poliziano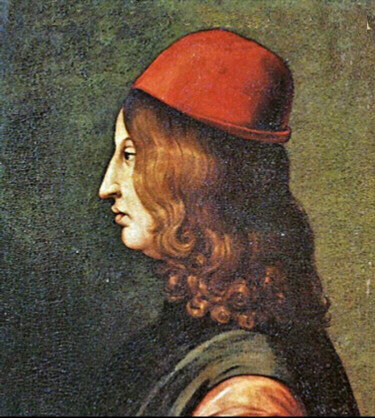 Portrait of Pico Mirandola
Cristofano dell'Altissimo
(copy of an unknown original),
Uffizi, Florence

Click here to see
our fine art store.

FLORENCE, Italy, 7/31/2007 - Two of the Italian Renaissance's most prominent Neoplatonist philosophers have been exhumed to solve a centuries old murder mystery. Members of Lorenzo de' Medici's Florentine circle, Pico della Mirandola (age 30) and Angelo Ambrogini (age 40) called Poliziano both died mysteriously young within several weeks of each other in 1494. Only two years after Lorenzo de' Medici death in 1492, it was soon sugested that the two Florentine humanist philosophers were poisoned.



Pico Mirandola is considered to be the founder of philosophical humanism, a trend that proposed that man has the choice to do and be whatever he wants. Poliziano was a poet whose Italian writings were elevated alongside with Greek and Latin writings. He was tutor to the Medici children, and he also documented the death of Giuliano de' Medici in the famous Pazzi conspiracy of 1478.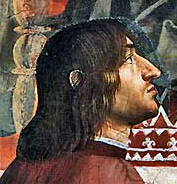 Portrait of
Poliziano,
friend of Pico Mirandola
(fresco detail), ca. 1482
by Domenico Ghirlandai,
Sassetti Chapel, Florence

Click here to see
our fine art store.

Pico Mirandola and Poliziano were reported to be homosexual lovers.

< P>

According to Silvano Vinceti, head of Italy's National Committee for the Valuation of Historical and Cultural and Environmental Assets, Marsilio Ficino, close friend and leader of the Neoplatonist movement, was implicated in a recent hypothesis in the deaths.

After Pico Mirandola's death, Girolamo Savonarola, a Dominican priest of the period who detested homosexuality, orated in a sermon that Pico Mirandola would not go to heaven. Their exhumed bodies of Pico Mirandola and Poliziano have been taken to Ravenna where they will undergo forensic tests to determine the true causes of death. The results are expected in September.

Brenda Harness, Art Historian
For more information on Italian Renaissance Art and book recommendations, click here.