Marble Bust Sculpture of Aristotle Found in Athens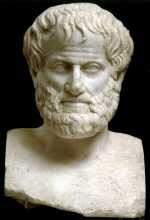 In clearing away debris to build the new Acropolis Museum in Athens, excavators discovered a 2300-year-old marble bust sculpture of famous Greek philosopher Aristotle. This marble bust sculpture of Aristotle of the Roman-era is said to the "the best-preserved likeness ever found" by Alkestis Horemi, senior archaeologist of conservation and archaeological work on the museum site.
"Best-Preserved Likeness Ever Found"
One of nineteen existing marble bust sculptures of Aristotle, this newly found marble bust sculpture is depicted according to ancient descriptions of Aristotle with a hooked nose. Like most Roman works of this type, it is a copy from a Greek original. Many Greek originals were cast in bronze. This marble bust sculpture of Aristotle is slightly over 18 inches. Aristotle was the student of the Greek philosopher Plato, and the Macedonian teacher of Alexander the Great. Also excavated at the site were two other marble bust sculptures, one of 2nd century AD Roman Emperor Hadrian.
Brenda Harness, Art Historian
UPDATE: If you read this article in recent days, the photo we showed here was NOT the new bust of Aristotle found on the Acropolis Museum site by Italian archaeologists.
The photo to the right IS the new one.