New Aztec Information: Monolith May Be Headstone of a King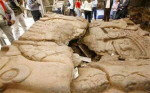 11/16/2006 - Initially reported in October to be the largest Aztec idol ever found, new information by archaeologists suggests that the monolith uncovered in the heart of Mexico City may actually be a headstone of a deceased Aztec ruler. As the excavation dirt was removed from the Aztec monolith, new information was revealed about the image of the Aztec god of the earth, Tlatecuhtli. Around the image of the Aztec god are other images of a rabbit, skull and crossbones designs, and dot symbols which are believed to date the monument to 1502. The 12.4 ton, 11-foot slab Aztec carved image is fractured in several pieces, but information suggests that it is probably a headstone commemorating the death of Ahuizotl, predecessor of Moctezuma II who ruled when the Spanish conquistadores came to power.
Although modern Mexico City was built on the site of Tenochtitlan, the Aztec capital, and The Aztec Templo Mayor complex, the excavation site contains a wealth of information and artifacts. As new information about this important site surfaces, it will be posted here.
Brenda Harness, Art Historian
For more information on Italian Renaissance Art and book recommendations, click here.