Possible Sandro Botticelli Fresco Painting Found in Ruined Hungarian Castle.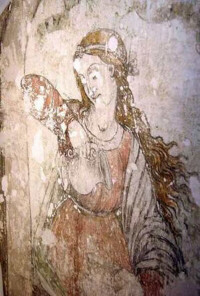 One of the 4
Medieval Virtues
Sandro Botticelli?
fresco painting, ca. 1470,
Esztergom, Hungary

Click hereto see our fine art reproductions.

06/10/2007 - A restoration project in Esztergom, Hungary has resulted in a surprise possible attribution of a fresco painting to Early Italian Renaissance painter Sandro Botticelli. While restorations have been ongoing since 2000 on the four-piece mural, it is only in recent weeks that art historians have recognized the hand of Sandro Botticelli in the one of the fresco paintings.



The mural paintings were commissioned to decorate the castle chapel by Janos Vitez, Archbishop of Esztergom. To paint the frescoes, Vitez employed the school of Fra Filippo Lippi to whom Sandro Botticelli was apprenticed. The images depict the four medieval virtues, a common theme of the Italian Renaissance. Apparent in the fresco painting to even a casual observer is the flowing red hair characteristic of Sandro Botticelli's favorite model, Simonetta Vespucci, who died in 1476, but who Botticelli continued to paint for the remainder of his career.

Janos Vitez was a Hungarian Humanist who was born around 1400 and reigned as archbishop in Hungary from 1465 to 1472.

Brenda Harness, Art Historian

For more information on Italian Renaissance Art and book recommendations, click here.