Roman Gladiator Mosaic Found at Villa of Commodus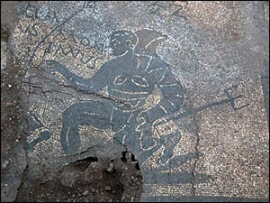 Roman Gladiator Mosaic

Click hereto see our fine art reproductions.

ROME - 04/29/2007 -Archaeologists have found a 2,000 year old Roman gladiator mosaic while excavating the ancient site of the magnificent Villa dei Quintili, home of the infamous Roman emperor Commodus. The villa just south of Rome featured a small amphitheatre where gladiators trained and fought for the pleasure of the Roman emperor. The Roman gladiator mosaic features a gladiator named Montanus who holds a trident as he is declared victor after a gladiatorial combat.


Commodus (AD 161 - AD 192) is well known for his love of blood sports and often participated in the games himself. It is Commodus who was featured in the 2004 blockbuster movie Gladiator as the despotic Roman emperor. The Roman gladiator mosaic was dedicated to Montanus who may have been one of the emperor's favorites. The emperor's personal participation in the games was considered scandalous by Roman high society.

Several hours after the publication of the Roman gladiator mosaic in the London Telegraph news, thieves attempted to steal it from the site causing some small damage to the Roman mosaic.

Brenda Harness, Art Historian

For more information on Italian Renaissance Art and book recommendations, click here.