SURPRISE CACHE OF STOLEN ART IN MANHATTAN
NEW YORK -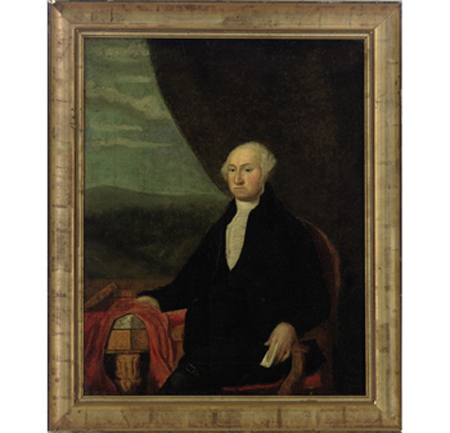 Following the death of a man named William Kingsland of New York City in 2006, New York Public Administrator Ethel Griffin was left with a dilemma - what to do with the extensive art collection of Mr. Kingsland who left no will and had no heirs. Ms. Griffin decided the best course of action was to sell the art, so she contacted Christie's and Stair Galleries, two auction houses.
Provenance is an important consideration in selling fine art. Christie's and Stair started research on the art, so it was a huge surprise to find that some of the art was stolen, much of it missing since the 1960s and 1970s. Christie, Stair, and the Public Administrator's office then alerted the FBI who has a division devoted to the recovery of stolen art.
Among the art works involved are works rendered by famous artists like Picasso, Copley, Boudin, Giacometti, Corot, Glackens, and Lely. Notable among the works were Portrait of George Washington (above) and Portrait of Oliver Cromwell by Peter Lely.
Also surprising information is that William Kingsland was not who he seemed to be. When he was younger, Mr. Kingsland changed his name to Kingsland from Melvyn Kohn, his birth name, apparently to better fit into a more elite, affluent literary circle in Manhattan.
Other famous stolen works recovered in recent years were Cellini's Saltcellar of Francis I, Munch's The Scream, and Leonardo's Madonna of the Yarn Winder stolen from the Duke of Buccleuch, Dumlanrig Castle, Scotland.
In an effort to identify and return the stolen art, on 08/11/2008 the FBI has advertised these art works to the general public. IIt is not believed that all of the art involved is stolen art. The FBI continues to investigate this situation, and they are calling for the public to come forward to either make claims or to provide information. The FBI contact is Agent Wynne at (718) 286-7302 or by e-mail at James.Wynne@ic.fbi.gov.
Brenda Harness, Art Historian