Treasures from the Vatican Museums May Be Coming to a Town Near You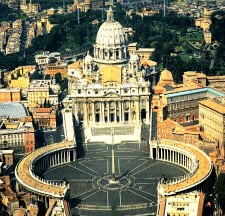 St. Peters Basilica
Vatican City, Rome, Italy

Click here to see
our fine art store.

01/10/2008 - Treasures from the Vatican Museums will soon be coming to Florida, Ohio, and Minnesota in 2008. The exhibition is called "Vatican Splendors from St. Peter's Basilica, the Vatican Museums and Swiss Guard. The first venue is scheduled for the Florida International Museum in St. Petersburg from February 9 through May 11. Featured in Vatican Splendors will be significant objects related to the papacy and church evolution, including 200 works of art, all from the diverse collections of the Vatican Museums.


Vatican Museums exhibition designed around four themes
Foundations of the Church relates St. Peter's story and the development of the church. Featured here are Jesus and the Holy Family, the Apostles, and the Church founders, as well as a reconstruction of the Tomb of St. Peter with a reliquary holding the saints bones. Visitors will be able to see a mosaic Bust of an Angel (ca. 1310) by Giotto di Bondone, famous early Italian Renaissance painter.
500 Years of the Vatican commemorates the 500th anniversaries of New St. Peter's Basilica, the Papal Swiss Guard and the Vatican Museums. This segment features the work of architect Donato Bramante, Raphael, Michelangelo, and Bernini all of whom contributed to the development of New St. Peters. In addition to works collected and commissioned by the popes, the function of the Papal Swiss Guard is outlined.
The Work of the Pope explains the historical significance of the Sistine Chapel and the papal election process, religious celebrations and the pontiff's relationship and interaction with world religious leaders.
Stories of Popes recounts some of the ministries of the 265 pontiffs over 20 centuries. Among items featured here are the tiara of Pope Pius VII (1824-1831), Lello Scorzelli's bronze portrait of Pope Paul VI. Explained in this theme are papal elections and highlights of how the pope's work fits within the structure of the Roman Catholic Church.
Brenda Harness, Art Historian