Viking Boat Burials Found in Norway With Treasure Intact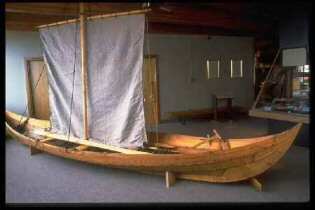 NORWAY - 01/08/2007 - On January 8, 2007 it was announced that Danish archaeologists found two Viking boat burials from about 800 A.D. with their treasures intact. Burials in boats such as these were common practice among Vikings who originated in Scandinavia. One of the boat burials was that of a woman, and she was found with jewelry, a knife, a bronze bowl, scissors, and pearls, items of considerable value. The other Viking boat burial was that of a man. A Viking child's tomb was located nearby causing archaeologists to believe that this site was a family burial.

Each boat used for burial was about 6 or 7 meters long (over 20 feet). Vikings were both traders and marauders who traveled great distances in their boats in pursuit of profit. These Viking boat burials were found about 350 miles from Oslo.

Brenda Harness, Art Historian

For more information about Italian Renaissance Art and book recommendations, click here.