A young Roman was walking on the Aventine hill only to fall into a hole into a subterranean wonderland. He saw incredible frescoes, appearing to be freshly painted as if new. He had fallen into the cavernous remains of Nero's Golden House. The site of this accident drew Italian artists from far and wide.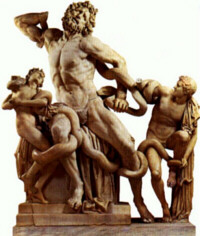 Raphael and Michelangelo visited the site, and some artists of the time inscribed their names into the walls. From the depths of Nero's pleasure palace, from the frescoes, mosaics, and sculpture, they took inspiration, an inspiration that would be reflected in the art of the High Renaissance.

As the Domus Aurea with its new antique source material was explored, one classical Greek sculpture was unearthed on a day that Michelangelo visited. It was the Laocoon, a marble work by famed Greek Hellenistic sculptors, Athanadoros, Hagesandros, and Polydoros of Rhodes. Laocoon, a mythological subject, depicts the Trojan priest Laocoon with his two sons in a struggle against a giant sea snake, a punishment from the gods for warning the Trojans about the Trojan horse. Its powerful emotional content and vigorous muscularity would soon be reflected in the works of Italian Renaissance giants Michelangelo and Raphael.

This work and others like it from Nero's private collection of classical Greek sculpture profoundly influenced Italian Renaissance art, and it is from this art that we have developed our own modern aesthetic sensibilities. Had Nero not been the demented, despotic monster that he was, had his Golden House not been stripped and entombed, buried beneath the Baths of Trajan for two millennia, his classical Greek sculpture collection might have been lost like so many other art work of its kind. Without Nero, we might not appreciate beauty when we see it.

Brenda Harness, Art Historian

------------------------------------

Brenda Harness is a practicing artist, art historian, and former university teacher writing about a variety of topics pertaining to art and art history. Visit her at Fine Art Touch.
For more information on Italian Renaissance Art and book recommendations, click here.