Lorenzo de' Medici | Art Patron Extraordinaire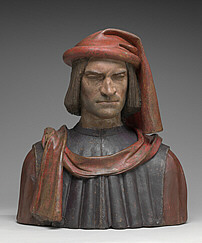 Lorenzo de' Medici
by Verrocchio

Click here to see our
gift shop.

Italian Renaissance art patron Lorenzo de' Medici married a highborn Roman noblewoman of the Orsini family, and his daughter married Pope Innocent VIII's son who was conceived prior to the pope taking religious orders. Lorenzo's son Piero also married an Orsini, and Lorenzo bought his other son, Giovanni, a cardinal's hat at age thirteen.



Having little of his father's business acumen while spending vast amounts to money to maintain his princely lifestyle, Lorenzo de' Medici's fortune eventually began to dwindle. Faced with a deteriorating Italian economy, the Medici banks began to fail. While the money lasted, however, Lorenzo de' Medici patronized artists, architects, and literary endeavors like no one else. He collected ancient texts and established the Platonic Academy populating it with a group of his own friends. Included were Marsilio Ficino, Pico della Mirandola, and Angelo Poliziano, also known as Politian.
Lorenzo de' Medici supported many famous artists.
Among the artists Lorenzo de' Medici patronized were Botticelli, Giuliano da Sangallo, Verrocchio, and the young Leonardo da Vinci, Verrocchio's pupil. Later in his life, Lorenzo added the 15-year-old sculptor Michelangelo and others to his retinue when he created a sculpture school in his garden. All of those people included in his inner circle were nurtured with great affection.
Even money couldn't buy Lorenzo de' Medici absolution from his sins.
In 1490 only two years before Lorenzo de' Medici's death, a fiery Dominican monk named Girolamo Savonarola began preaching in San Marco, a Medici-sponsored church. Lorenzo was probably surprised to find himself the target of a barrage of attacks from the pulpit as Savonarola prophesied doom and damnation for him and the Florentines in general. It has been reported that upon being called to Lorenzo's deathbed, Savonarola refused him absolution for his sins. Lorenzo de' Medici was laid to rest in San Lorenzo in a tomb overshadowed by the great tombs built there by Michelangelo. One is for Lorenzo's son Giuliano. The other is for Lorenzo's grandson, another Lorenzo, although many people erroneously believe that it is Lorenzo the Magnificent who is buried in that tomb.
Brenda Harness, Art Historian